The garden appears before me.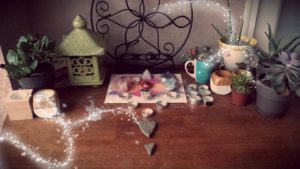 The fears and delusional energy is merely an old tune being played on a beat up record player.  The waves of its divine sound continue to fade but in a moment my vessel recognized its ring. These tempest of lies linger in a whisper, but, as if awakening from a slumber, my body reacts to its energy.  I realize their wave of dissonance in my body was my clue of their madness.
My will is embedded by the foundations of joyful living.  Kindness, humility and compassion are direct reflections of the divine's own mastery.  That is the truth I choose and it makes me free now.
The air is swollen in mist and showers.  The evening glistens in renewal.
I ride a wave of inspired action, focused upon appreciation and enjoying.